Meet the 5 startups competing for $50K at the Alabama Launchpad Finale in Auburn, August 26
After more than a year of virtual events, the highly-anticipated Alabama Launchpad Finale is returning to the stage in Auburn on August 26th! To celebrate, we're highlighting the 5 competitors, including startups helping people breathe easier, eat local, build wealth, and more. Keep reading to learn about the event—and buy tickets here!
Meet the Homegrown Tech Talent Competing for $50K
As the state's most active early-stage seed fund investor, Alabama Launchpad is dedicated to investing in promising startups throughout the state. Since its founding in 2006, Alabama Launchpad has invested upwards of $5.6M in 102 startups, fueling innovation and job growth in Alabama.
This year, Alabama Launchpad introduced new updates to the program, adding further value to the experience of all participants. One of the biggest changes to the program is the addition of Launch Advisors, a hand-picked group of Alabama entrepreneurs that mentor participating startups.
Now, let's meet the five seed stage companies competing for $50K at Alabama Launchpad!
1. Field Culture Compost
Last year, Field Culture Compost took home the gold as the Concept Stage Winner during the first virtual Alabama Launchpad finale. Now, co-founder Matthew Nesbitt is back for round two.
Field Culture Compost is aiming to revolutionize composting, starting right here in the Birmingham area. The company partners with local businesses—like restaurants and grocery stores—and turns their leftovers into valuable, environmentally-friendly compost. The nutrient-rich compost is perfect for farms, landscapes and even home gardens.
"I am most looking forward to the mentorship from my advisors during the program. Field Culture Compost is at a point where we are ready to scale into a larger market, and the advice and know-how from the Launchpad advisors will benefit us greatly. Field Culture Compost will certainly grow by leaps and bounds with exposure and advisement from Alabama Launchpad. We are poised to grow our customer base and revenue generation by the end of the program."

Matthew Nesbitt, Field Culture Compost
2. The Wealth Edit
Website | Facebook | Instagram
Historically, talking about finances has been tacky and taboo—especially for women. Even though women make financial decisions all the time, it can feel difficult to bring up the topic. The Wealth Edit aims to change that. The Wealth Edit is a finance-focused community of people looking to increase their confidence and financial literacy.
"In our first year with the Wealth Edit, we learned that we could really use a structure like Launchpad to learn the ins and outs of being a startup. We are so excited about the breadth and depth of resources Alabama Launchpad provides—we have already learned so much, specifically around pitching which we have never done before.

In addition, we are so grateful to the amazing women who have already said yes to being Good with Money and have joined our community. We hope Alabama Launchpad helps us reach more women who may be looking for a fun community of women pursuing a modern skillset."

Lauren Pearson, Owner and Founder, The Wealth Edit
3. Feast
205.335.1000 | Website | Facebook | Instagram | LinkedIn
Brett Ables and Erin Hill are the dynamic duo behind Feast, a Birmingham catering connector that bridges the gap between customers and their favorite restaurants. With years of experience in the restaurant and catering industry, Brett and Erin have designed a catering process that's hassle-free for both the customer and the restaurant!
"We're only 2 weeks in and we've learned so much from each of the advisors that we had never considered. It's a huge honor to be selected as a finalist for Alabama Launchpad and the exposure that comes with provides an incredible opportunity for Feast. Overall, our goal is to help our local restaurants thrive and provide a convenient, one-stop-shop for customers who order catering daily. We think Alabama Launchpad is going to take Feast to the next level!"

Erin Hill, Creative Director, Feast
4. Sandler Scientific
Website | Facebook | Instagram
Designed by Montgomery-based Dr. Stephen Chandler and his team, Sandler Scientific's Complete Rinse System concept was originally developed to help COVID-19 patients comply with nasal rinsing guidelines. The innovative device helps users comfortably and safety rinse their nasal passages and experience nasal relief. While it is true that Complete Rinse was primarily designed to overcome the shortcomings (gagging, choking and ear fullness) of most mainstream nasal rinse systems, the merits of its use extend far beyond convenience. Now, Dr. Chandler is bringing the system to Alabama Launchpad.
"The Complete Rinse system has been such an amazing success for my patients that I thought Launchpad would be a great vehicle to create more broad product awareness. I'm looking forward to working with our Launchpad advisors in order to gain collective support from the experience that each has acquired from their individualized area of expertise.

Also, since we are moving our manufacturing facility to Alabama, I'm expecting growth in our employee ranks as well as support from local suppliers; our distribution warehouse is already located here."

Dr. Stephen Chandler, Co-Owner, Sandler Scientific
5. Xcellent Life
Website | Facebook | Instagram | LinkedIn | Twitter
Xcellent Life is dedicated to helping users improve their health and wellness. By analyzing data from wearable sensors, Xcellent Life's app is able to provide real-time insight into the user's health. Led by CEO Victor Brown, Chief Medical Officer Dr. Lakiesha Crawford and CTO Samuel Berestizhevsky, Xcellent Life has been described as "an OnStar System, but for the human body".
"Given the amazing mentors I have as a part of the Alabama Launchpad program, I anticipate that we will refine how we tell our story so that it resonates with more people, we will get some clients from the Birmingham area and we will refine some of our processes as a part of the program so that we are operating more efficiently and effectively."

Victor Brown, CEO, XCellent Life
Catch the Action in Auburn on August 26th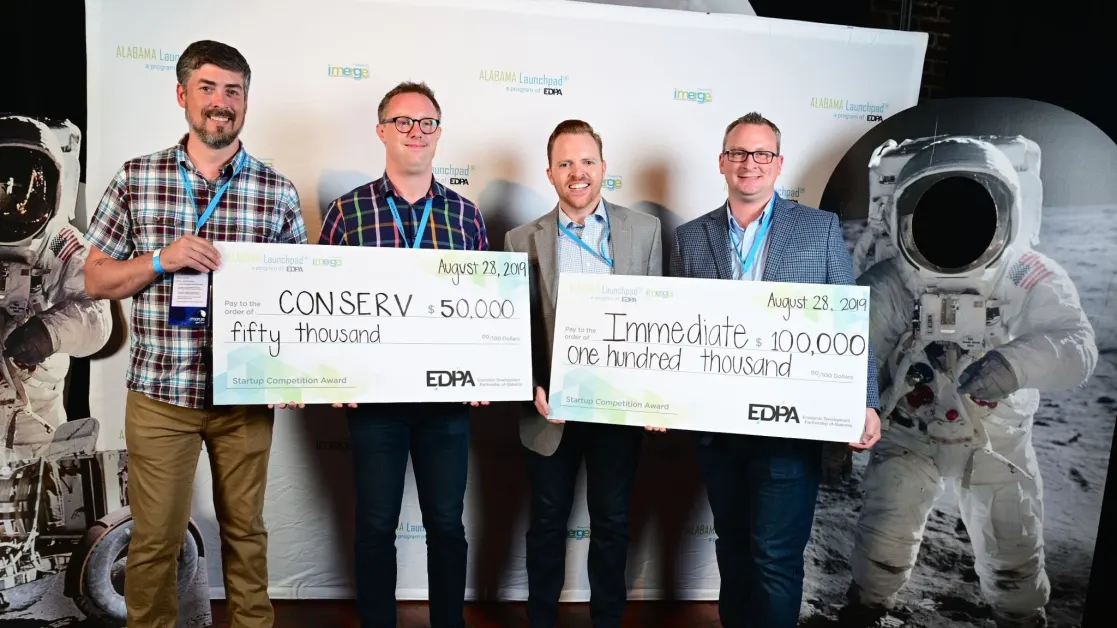 With a total of $75K on the line, you don't want to miss the Alabama Launchpad Cycle 2 Finale! The action kicks off in The Park at Auburn at 5PM on Thursday, August 26th—and you're invited!
Be sure to join the Alabama Launchpad family in Auburn to see these startups' hard work pay off. Afterwards, stick around to meet some of the most innovative minds in Alabama during the happy hour.
Register for the Alabama Launchpad Cycle 2 Finale here.
Which startup do you think will win on August 26th? Tag @alabamalaunchpad on social media to let them know!